Get immediate, same-day dentures and never be without your smile
No waiting between tooth removal and your new dentures
The time between tooth extraction and getting your new dentures can be stressful. Many people opt to stay out of the public eye until their dentures are ready. With immediate dentures, there is no waiting time. You'll walk out of the clinic actually wearing your new dentures on the same day!
Besides the fact that you will never need to appear in public without teeth, there are many advantages to choosing immediate (same day) dentures:
Ensures a more comfortable-fitting denture – It is easier to mirror the shape, colour and arrangement of your natural teeth while some are still in your mouth
Helps to control bleeding and swelling
Protects your mouth against trauma, lessens pain and prevents irritation from your tongue and other outside irritants such as food
Allows you to establish your speech patterns with a denture, rather than having to talk without teeth, and then re-adjust to speaking with a denture later
Makes it easier to chew your food – rather than eating without teeth
Prevents loss of jaw muscle
Minimizes facial distortion that can occur when teeth are removed
Interested in learning more about immediate dentures? Come in for a free consultation with a digital denturist today.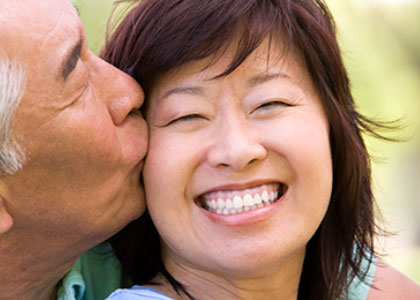 The steps to your smile makeover
How our immediate denture service works
We conduct a free, no-obligation consultation during which we assess your current oral health, and determine if same-day dentures are right for you.
During your next appointment, we take a pain-free, non-invasive digital impression of your teeth to help us create a denture that fits your mouth.
Your immediate dentures are created in our own on-site lab using advanced digital technology.
You may be asked to come in for a partial try-in.
When your immediate dentures are ready, you'll pick them up and bring them to your dentist or oral surgeon on the day of your extractions.
Immediately following your tooth extractions by your dentist, your same-day dentures are put in place and your smile is instantly restored!
Please be aware that with immediate dentures:
More office visits are required, especially during the adjustment period
There is no opportunity to observe the anterior teeth during the try-in appointment; therefore the denture cannot be fully assessed until insertion
There is less accuracy in the initial fit because your natural teeth have not been extracted yet
What's so great about digital dentures?
Why our patients love digital dentures
A comfortable and anxious-free visit
Less time in the chair and shorter clinic visits
Impressions taken without goop – no gagging!
It takes only moments to scan your mouth with the digital wand
Can watch impressions being made on the computer in real-time
Digital dentures from the lab are more accurate requiring less adjustments and fewer return visits
Easier to repair and replace if dentures break accidentally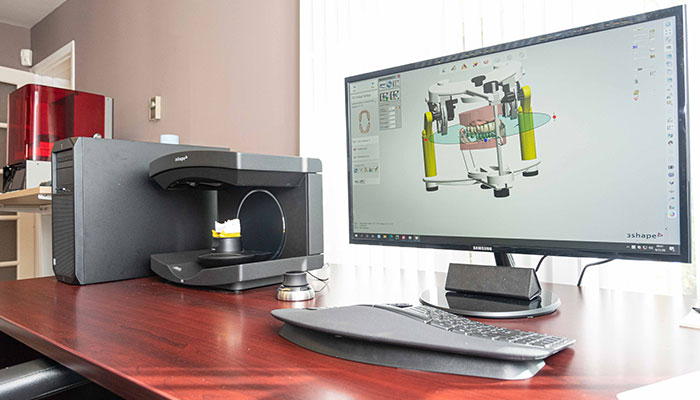 No goop. No gagging!
Say good-bye to the unpleasant experience of clenching an impression tray with goop in your mouth for what seems like forever. Digital impressions are made with a wand scanner (some call it a magic wand) that draws a complete and accurate digital picture of your mouth in minutes – while you watch. It's easy, comfortable and best of all, there is no goop involved – which means no gagging!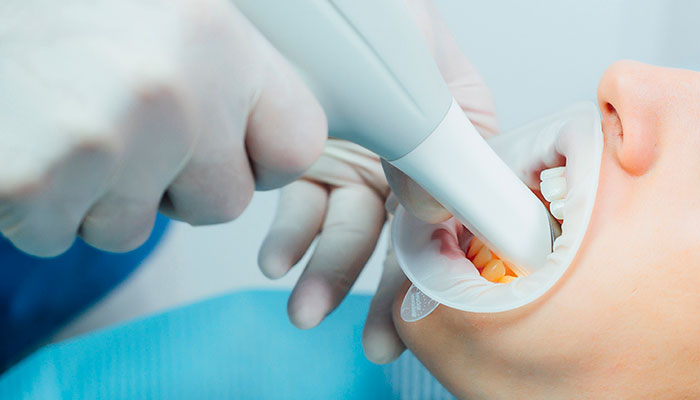 Frequently asked questions about immediate dentures
How long does it take to get immediate dentures?
There are many factors that determine the timeline for your immediate dentures. First, we will need to coordinate your tooth extractions with a dentist (your family dentist or a referral dentist) or oral surgeon. You may have up to four appointments at our Wellington Street Denture Clinic. The first will be to assess your oral health. Your second appointment will be for a pain-free digital scan of your mouth, followed by a third appointment for a partial try-in. Finally, we will book an appointment for you to come in and pick up your dentures to bring to your dentist on the day of your extractions.
Are immediate dentures permanent?
The first set of immediate dentures is a temporary set of dentures. After the majority of healing is done, we will fabricate your permanent dentures taking into consideration healing time, the fit and function and any changes in your appearance that you may want at that time.
How long do I wear immediate dentures after my teeth have been pulled?
Wear your immediate dentures for the first 24-48 hours post-extraction. We will schedule you for a follow-up appointment during which we will assess the fit and your bite, check your healing progress and look for denture sore spots. We recommend you wear the dentures continuously for the first few weeks, and remove them when you floss, brush your teeth, or need to clean your dentures.
How much do same-day dentures cost?
Like anything else, the cost of immediate dentures varies from clinic to clinic, depending on the technology and materials being used. The cost is also dependant on whether or not a temporary/transitional denture is made first to be worn during the healing process. The best way to know is to book a free, no-obligation consultation with us at the Wellington Street Denture Clinic.
Can I eat while wearing immediate dentures?
Yes, you can eat and drink while wearing immediate dentures.
First-time wearers might find eating a little awkward in the beginning. Try cutting your food into small bites until you become more comfortable. Avoid sticky, hard or chewy foods initially. As you grow more confident eating, start adding different foods. Most patients have few problems once they have adjusted to their new dentures.
Can anyone get teeth extractions and dentures in the same day?
Yes – 95% of the time. When proper molds or digital imaging and jaw measurements can be taken, it is possible to have same-day dentures.  This is also dependent on your oral health history.
Curious about same-day dentures?
Schedule your free, no-obligation consultation to get started.