Our digital dental services give you more reasons to smile
Precision-fitting dentures that feel so natural, you may forget you're wearing them
New digital dentures restore your smile and make eating enjoyable again
Like most people, you probably have some strong opinions about dentures. But you'll be pleasantly surprised to discover how comfortable and natural the new, advanced digital denture fits and feels. You may even forget you're a denture wearer!
Our digital denture services – including full dentures, partial dentures, immediate dentures, and denture implants – deliver high-quality, modern dentures that are thinner, lighter and stronger than traditional dentures.
Using advanced scanning technology, we create a digital replica of your entire mouth, and a prototype is made in minutes. The prototype is sent to our on-site digital lab where your precision-fitting partial or full dentures are created in just a few days.
Your new dentures fit comfortably, and won't slide around in your mouth. You can enjoy eating without thinking or avoiding certain foods. You can grin from ear-to-ear – and no one will know that you're wearing dentures. Although they "may" wonder why you're smiling all the time!
Are you ready to find your smile again with digital dentures? Come in for a personal consultation today.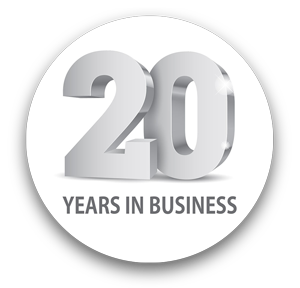 What's so great about digital dentures?
Why our patients love digital dentures
A comfortable and anxious-free visit
Less time in the chair and shorter clinic visits
Impressions taken without goop – no gagging!
It takes only moments to scan your mouth with the digital wand
Can watch impressions being made on the computer in real-time
Digital dentures from the lab are more accurate requiring less adjustments and fewer return visits
Easy to replace if dentures break or are lost – duplicates can be made almost immediately from digital files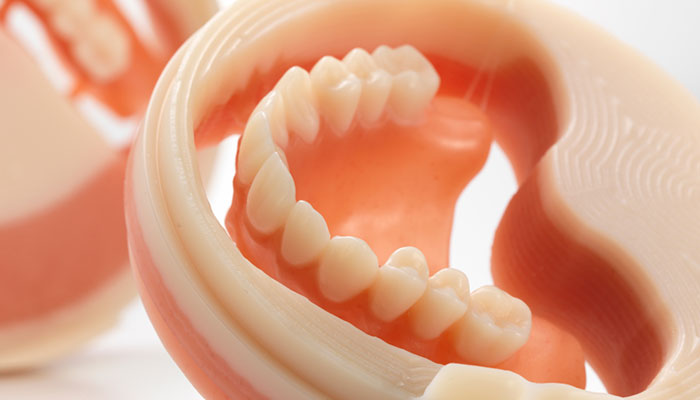 A digital scanned impression? What does that entail?
Patients receiving their very first denture or partial will have a combination of digital scanning & impression trays depending on oral condition of patient. If a traditional impression is required, this impression would than be scanned into our digital software for design & production of the digital denture. Digital impressions are made with a wand scanner that draws a complete and accurate digital picture of your mouth in minutes – while you watch.
The end goal is to achieve the best oral prothesis possible.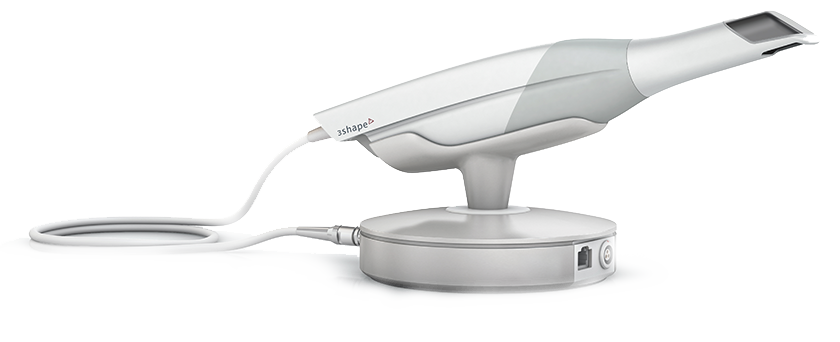 Frequently asked questions about digital denture services
What are digital dentures?
The term digital denture is used to describe the entire workflow involved in the fabrication of a CAD/CAM milled denture. The process involves taking a digital impression of the mouth using an oral scanner, and developing a virtual prototype which is then used to fabricate a custom-fitting denture appliance that is unprecedented in fit and function.
How do digital dentures differ from traditional dentures?
Digital dentures are thinner, lighter, stronger, better fitting, and more bio-hygienic than traditional dentures. Digital dentures have been proven to be a much more comfortable denture over traditional dentures. When your teeth and jaw are properly lined up, your denture feels more natural in your mouth. The secret behind digital dentures is that advanced technology is used in the manufacturing process for a more precise fit that requires less adjustment than traditional dentures.
If a traditional denture is broken or lost, making new dentures means starting again from making a new impression to fabricating a new denture. New digital dentures can be made almost immediately from the digital file, which is forever on file. No impressions need to be taken.
Have questions about digital denture services? Let's talk.
Contact us today to schedule a personal consultation.