Concerned about wearing complete dentures? Permanent dentures will set you free.
Fixed dentures fit and function just like your natural teeth
If you've lost an entire arch of teeth and you're concerned about wearing dentures, permanent dentures may be the ideal solution for you.
Permanent or fixed dentures are affixed to dental implants in your jawbone so they fit and function just like your natural teeth – maybe even better. They won't budge – even a little – when you're eating, speaking or smiling so you can live your life freely, with barely a second thought to your dentures.
Dental implants also protect your gums and jawbone
Dental implants act as replacements for the roots of natural teeth, working to maintain the bone's structure and density needed for long-term oral health. They also provide a firm foundation for your dentures giving you a stronger bite and enabling you to eat, speak and smile with added confidence.
If you're curious about permanent dentures on implants, let's talk about setting your smile free.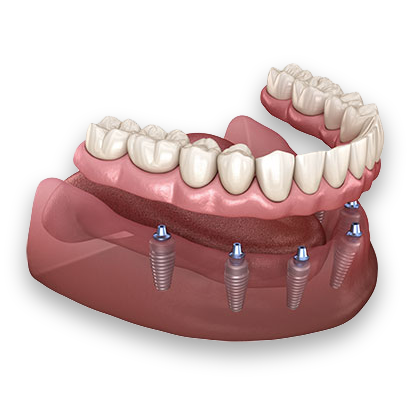 How permanent dentures on implants work
A denture implant looks like a small screw, and is made of surgical titanium – a type of metal that the body easily accepts. Denture or dental implants are installed by a dental surgeon. Each implant is placed below the gum directly into the jawbone, where it eventually bonds with the bone to strengthen it.
Like the snap on a jacket, the implant snaps into a connector located within your removable dentures firmly anchoring your full upper and/or lower dentures in your mouth.
Caring for your new dentures is similar to caring for your natural teeth. Brushing and regular dental check-ups are recommended.

The benefits of denture implants
Stronger bite
More comfortable fit
Eat and speak more naturally
Prevents tissue and bone shrinkage
Helps to maintain jaw muscle
No need for denture adhesive
Natural appearance
Promotes long-term oral health
FAQs: Permanent Denture Implants
How many implants are required for fixed dentures?
One average, 4-8 dental implants are needed to ensure that your new dentures function correctly and are as stable as your natural teeth. It all comes down to individual dental conditions, bone density, and bone volume.
Our denturists conduct a thorough examination before developing a custom dental implant plan.
Do permanent denture implants ever need to be replaced?
Not necessarily – permanent denture implants can last a lifetime. They may only need a replacement if they are loose, you've developed an infection, or there are signs of severe wear and tear.
Can I get a permanent denture if I have a partial denture?
No. Permanent dentures are available for full denture arches only.
Considering permanent dentures on implants?
Schedule an appointment for a free, no-obligation consultation today.